The all new Maruti Suzuki S-Cross is now ready to launch in odisha, with it's premium dealership partner NEXA. The car has been brought forward for public review in Bhubaneshwar at many places.  Maruti Suzuki Nexa S-Cross, to be launched on August 3rd is more of a crossover than a SUV. Although the various other cars in this segment have gone with the ape style look of SUV, yet Maruti settled with something different. S-Cross has got a tough and can-go-anywhere looks. Adding to its tough look it is also quite stylish and a family car which makes it all the more desirable.
The vehicle was unveiled as a concept at the 2014 Delhi Auto Expo and will finally be launched sometime in July. Expected to be priced in the range of Rs. 7.50 lakh – Rs. 12 lakh, the bookings for the vehicle has already begun at the dealer level.
The S-Cross sets out to tackle a segment which is dominated by SUVs like the Renault Duster, Nissan Terrano and the Ford Ecosport. Of course the new Hyundai Creta is also part of the competition but when you first look at the S-Cross, it's visibly not an SUV and it was never meant to be one. Maruti Suzuki calls it a 'premium crossover' and this is what sets it apart from all its rivals.
The inside of the S-Cross is a whole new ball game. It comes with all black upholstery and there is a hint of beige on the dashboard. The interiors have been designed to look smart, sporty and contemporary and this is where many of the youngsters might feel weak in the knees. The fit and finish on the inside too is top-notch and it's as 'premium' a Maruti car gets. Even when you rotate the knob of the climate control to change the blower speed or temperature, there is that distinct feel you get and you understand how well the buttons have been damped.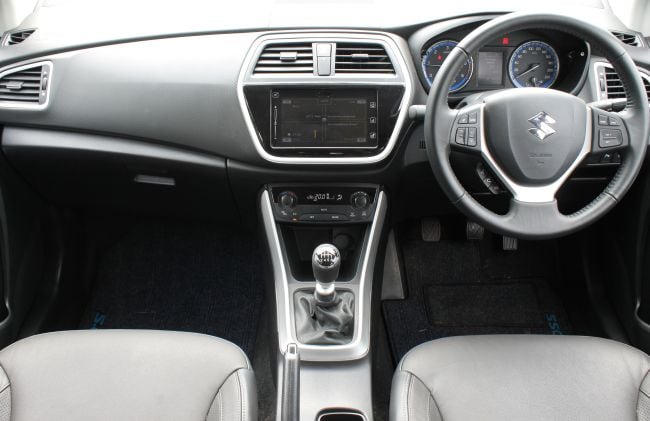 The car attracted lots of crowd here in the city, because of its premium and compact look. It looks fabulous in its metallic blue color. The premium dealership of NEXA in Bhubaneswar is opening shortly at Infocity, DLF building, says Sonal Sikaria – Marketing Head, Jyote Motors. .
| | | | |
| --- | --- | --- | --- |
| | Hyundai Creta | Maruti S-Cross | Renault Duster |
| Displacement | 1.6-litre diesel | 1.6-litre diesel | 1.5-litre diesel |
| Power | 126bhp | 118bhp | 108.5bhp |
| Torque | 26.5kgm | 32.6kgm | 25.3kgm |
| | | | |
| --- | --- | --- | --- |
| | Hyundai Creta | Maruti S-Cross | Renault Duster |
| Length | 4270 mm | 4300 mm | 4315 mm |
| Width | 1780 mm | 1765 mm | 1822 mm |
| Height | 1630 mm | 1590 mm | 1695 mm |
| Wheelbase | 2590 mm | 2600 mm | 2673 mm |
The vehicle looks largely similar to the SX4 S-Cross concept unveiled at the 2014 Delhi Auto Expo.The key exterior elements are plastic cladding all around the body, roof rails, 16 inch alloy wheels, etc which make it look quite rugged.
Engine & Transmission Options
The Maruti Suzuki S-Cross will initially be launched with two diesel engines – 1.3-litre and 1.6-litre – both of which have been sourced from Fiat. At a later stage, the company might launch it with a 1.4-litre petrol unit. While the 1.3-litre diesel unit is the same that does duty on the Ciaz, Swift, Swift Dzire and Ertiga, the 1.6-litre multijet diesel unit has been imported especially for the Ciaz.
1.3-litre diesel – 89bhp, 200Nm
1.6-litre diesel – 118bhp, 320Nm
Expected Launch – July, 2015
Expected Price Range – Rs. 7.50 lakh – Rs. 12 lakh (Ex-showroom)
What you'll like:
• Solid build & good quality, inside out
• Powerful 1.6L diesel with 320 Nm of torque. Superb mid-range and top-end performance
• Mature ride & handling package. High speed behaviour is exceptional
• Practical interiors, spacious cabin and supportive seats
• Maruti's excellent after-sales support network
• All variants get 4 wheel disc brakes, ABS & dual airbags (except base trim with one airbag)
• Feature loaded: Bi-xenon headlamps, leather seats, cruise control, 7″ touchscreen ICE etc.
What you won't:
• 1.6L diesel suffers turbo-lag until 1,750 rpm
• No petrol engine, no automatic transmission, no AWD
• Sold only through ~35 NEXA dealerships, thereby limiting its availability
About NEXA:
• NEXA stands for "New Exclusive Automotive Experience". It's a rich sounding name, no doubt.
• Maruti will be relying on the NEXA showrooms to sell its premium range of vehicles, starting with the S-Cross. The Ciaz will continue to be sold through Maruti dealerships though. Period.
• There will be about 35 – 40 NEXA dealerships initially. Maruti targets to open 100+ NEXA outlets across 30 cities by April 2016. Whatever way you look at it, this small number of sales outlets will greatly limit the S-Cross' availability & volumes. Maruti's regular network has over 1,000 sales points!
• All showrooms will either have a dedicated customer parking area, or more likely, valet parking.
• The showrooms will be designed to keep the limelight on the display cars. Thus, the interior theme will be a monotone black & white, with only the car being in colour.
• Interestingly, NEXA showrooms prominently carry 'Maruti-Suzuki' branding, while the S-Cross doesn't. What a confused branding strategy?!
• Each customer will have a Relationship Manager (RM) that stays with them through the entire buying & ownership experience. Some of the RMs are from banking, airline and even premium car dealership backgrounds, having undergone specific training for their role at NEXA. The RMs will be the single point of contact when you send your car for servicing as well.
• Customers can use Maruti's widespread support network to service their cars. However, they will be given the option of a mobile workshop van visiting their house, or a pick up & drop off service. Of course, customers can visit the service center themselves, if they so prefer.
• Transactions will be paperless as far as possible. Wall-mounted displays will be connected to tablet PCs to give customers information about the product.
• Showrooms will have a dedicated delivery area. Deliveries won't be done in the traditional (cracking a coconut) way, but will be personalized to suit the customer's taste (e.g. with his choice of music playing in the background). Time to dig out that old Guns N' Roses CD!
• NEXA dealerships won't be directly operated by Maruti. They will be owned & operated by existing dealers.